Time Locks
Combination Time Locks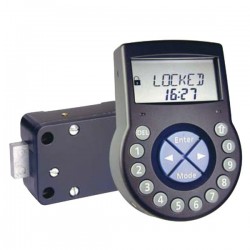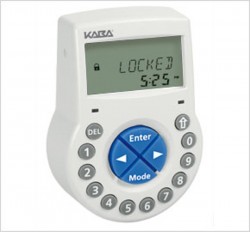 SL 525 may not only be programmed by key pad, but also with a computer. This allows even better adjustment to the customers needs by modifying additional settings.
Kaba Electronic Combination Timelocks
The electronic combination locks SL 525 and SL 523 are developed on the basis of the 'All-in-One' and easy-to-use concept.
Combination Time Locks offer a wide range of functions particularly needed in medium to high security applications. Using state-of-the-art microelectronics, these safe locks provide a range of functions that is unparalleled. Its main application fields are the financial and the retail industries, fast food restaurants as well as the domestic sector.
Approvals/Certificates (*pending) EN 1300 B, ECB-S, VdS cl.2, CNPP a2p(E) Niveau B, UL Type 1

Selectable code format (ID+Pin or Pin+ID)

Single mode (1 x 8 digits) or Dual mode (2 x 8 digits)

Code group lockout

Shelve function

Wrong try lockout after 4 false codes

Duress code (silent alarm)

Time delay, 0-99 minutes

Duress time delay, 0-99 minutes

Confirmation window, 1-99 minutes

Automatic DLST (summer/winter time) changeover for Holiday periods, yearly repeating periods & weekly time lock

Fast locking

Low voltage detection

Battery status display

Non-erasable opening counter

Error diagnosis, recognition & display

Remote/alarm disabling

Operator selectable display of 8 languages

Records more than 1,200 events

Time stamp
Please
contact
Trustee Safes Ireland for any further information.
---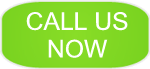 Trustee Safes Ireland
| | | | |
| --- | --- | --- | --- |
| Kilkenny: | Thomastown, Co. Kilkenny | Ph: | 087-2538471 |
| Dublin: | Donnybrook, Dublin. | Ph: | 087-2538471 |
| U.K.: | Stone, Staffordshire | Ph: | 0044-79553-75213 |
| Email: | trusteesafes@gmail.com | | |
Nationwide supplier and installer of safes - Antrim, Armagh, Carlow, Cavan, Clare, Cork, Derry, Donegal, Down, Dublin, Fermanagh, Galway, Kerry, Kildare, Kilkenny, Laois, Leitrim, Limerick, Longford, Louth, Mayo, Meath, Monaghan, Offaly, Roscommon, Sligo, Tipperary, Tyrone, Waterford, Westmeath, Wicklow & Wexford, Ireland & UK